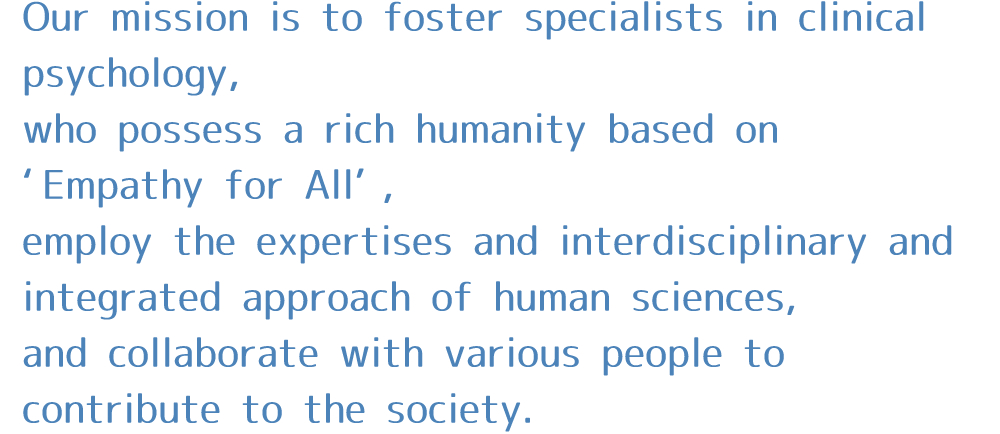 History of Clinical Psychology Major
The Clinical Psychology Major in the Graduate School of Human Sciences was founded in 1993 with the maximum enrolment number of 9 students, and became one of the first ten certified graduate schools of clinical psychology (type 1), which started in 1996. Since 1999, we have been accepting the maximum number of 20 students per year. The total number of our graduates has reached over 400, most of which are working as practitioners in the field of clinical psychology. In 2000, we set up the first doctoral program in clinical psychology in Japan. In 2018, our school was accredited as a training institution for Certified Public Psychologist, which is a national qualification. Although the history of the major itself is 26 years, the Institute of Clinical Counselling was established as early as 1966, when the predecessor of Bunkyo University, Rissho Women's University's Faculty of Home Economics Study was founded. The Institute has been providing a place for teaching and practicing the counselling courses that are centred on clinical psychology. It is now affiliated to the Graduate School and plays an essential role in conducting education and research for graduate students and offering them practical training through internship. The major has the history of working on the frontline of education and research in clinical psychology for over 50 years.
Details of Education and Research
Building on the accumulated history of research and education in clinical psychology, we have created balanced curriculums. The curriculums required for both clinical psychology and Certified Public Psychologist are mainly run by full-time staff only. Our 13 full-time staff is in charge of all research supervision, and each staff provides supervision to one or two students.
The specialism of our teaching staff is extensive ranging from fundamentals to clinical application and covers various fields including the pillar of clinical psychology, namely, psychological assessment and psychotherapy (i.e. person-centred therapy, psychoanalysis, cognitive behavioral therapy, family therapy, play therapy) as well as specialism in education, development, family, welfare, medical care, crime and crime victims , existence , and industry.
[Details of Education and Research]
In terms of courses of study, we have all the courses required to be qualified to take examinations for Certified Public Psychologist and clinical psychotherapist. The students are also able to earn credits from the courses offered by Human Sciences Major Program or other graduate schools within the university. Rather than the one-directional lecture style, most of the courses employ active-learning in the form of a discussion between the lecturer and students, in which students have to think independently and present their opinions.
With regards to practical training, we established a system that allows us to offer students both on-campus and off-campus trainings: on campus, each student is allocated a case at the Institute of Clinical Counselling; and outside the campus, they can train in the five areas of welfare, education, forensic and crime , and industry and work. The students are provided both individual and group supervision thoroughly before and after the training. Furthermore, in order to respond to the increased demand for training due to the Certified Public Psychologist course, we have prepared supervision rooms for training and are improving on the system so that we can implement more finely-tuned responses.
As our teaching staff has a wide range of specialism, research supervision is provided according to each graduate student's interests. In terms of research methodology, not only traditional qualitative and empirical methods, we also offer students supervision in qualitative research methods such as GTA and IPA so that they can complete their master's thesis using these methods. Some of our students have submitted and had their papers published on academic journals based on their research outcomes, enrolled to our doctoral program or external doctoral courses, received a doctoral degree, and become university lecturers.
Requirements for Completion
In order to complete the program, you must be enrolled to our school for two years and earn more than 43 credits including the compulsory 25 credits. Furthermore, you must submit a master's thesis after receiving research supervision and be approved by the board of review.
Degree and Other Qualifications
Those who completed the Clinical Psychology Master's Program will be grated a master's degree (psychology). As we are a designated 'type 1' certified graduate school of clinical psychology, the graduates will also be qualified to take an exam for clinical psychotherapist, which is certified by Foundation of the Japanese Certification Board for Clinical Psychologists, on the year of their graduation. As we offer an accredited training curriculum for a national qualification of Certified Public Psychologist since 2018, the students can also be qualified to take the exam for Certified Public Psychologist by completing the required courses (on the basis that the students have completed the required courses at undergraduate level).
Status of Qualification Acquisition
The majority of our students aspire to become Certified Public Psychologist or clinical psychotherapist, and our culture is that most students have a habit of studying independently. Therefore, we have active independent study groups and are proud to have a high examination pass rates of 95% for Certified Public Psychologist and more than 90% for clinical psychotherapist (the national average is about 60%).