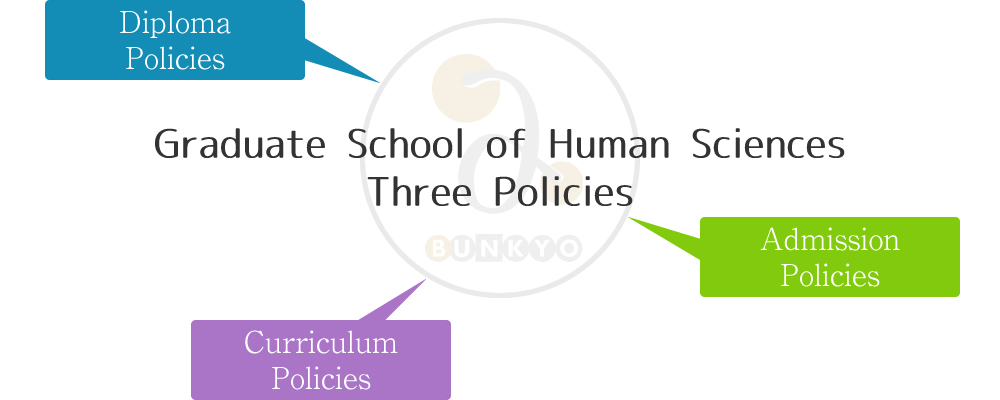 Diploma Policies: Policy for Degree Conferral
The abilities that should be acquired
Interdisciplinary knowledge related to the human sciences that have a firm foundation and integrates the scholastic systems of pedagogy, psychology, and sociology. Practical skills that are highly specialized with extensive knowledge related to lifelong learning, social welfare, community activities, family relationships, human nature, and mental health.

Achievement standards

Being able make integrated accomplishments the three fields of academic knowledge, practice, and research.
Being able to integrate practice with theory and compile it into a research thesis that can be published in journals or presented at academic conferences.
Being able to implement support for psychological and social adjustment, support for mental health, support for family relationships, social welfare support, and support for lifelong learning and community activities.
Curriculum Policies : Policy for Curriculum creation and implementation
The Curriculum System and Curriculum Characteristics
(Clinical Psychology Program)
The curriculum has been organized to foster students' abilities to provide support and to cultivate their research skills related to the psychological and social adjustments of human beings.
The curriculum has also been designed to allow students to be able to satisfy the requirements for passing the "clinical psychologist" certification examination of the Japanese Certification Board for Clinical Psychologists.
(Human Sciences Program)
This program's curriculum has been organized to train people who are highly specialized in health psychology.
Its curriculum has been compiled to train students to have the necessary abilities for improving and developing human lifestyles based on healthy living.
This program also has curriculum related to family education, social education, lifelong learning, social welfare, and social culture that human beings are required to learn throughout their lives.
Research guidance policy
Each student is assigned an advising teacher who provides thorough research guidance related to the appropriateness of their topic, method selection, and thesis composition.
Specific initiatives to spur achievement
To deepen students' understanding of comprehensive interdisciplinary knowledge and expertise, the clinical psychology program and human sciences program have established a credit transfer system.
To train students with practical abilities, attempts are being made to fully utilize practice and training both on and off campus.
Admission policies: Policies for accepting new students
Desired student profile
A person who has keen interest in the clinical psychology program or a specialized field within the human sciences program and has a clear drive to conduct research and practical study in these fields in the future.
Someone who has the general academic ability and necessary English skills to learn interdisciplinary knowledge and the specialized knowledge necessary for engaging in practice and research.